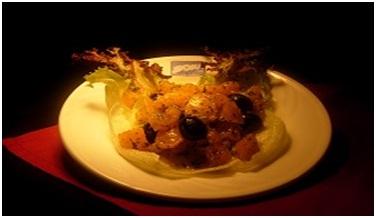 Ingredients:
Sweet Lime : 2 (Medium ripe)

Fresh Green Dill : 3-4 sticks

Aniseed powder : a pinch

3 Table spoon lemon Juice

Crushed black pepper : a pinch

Salt as per Taste

Olive oil : 2 tea spoon

Black olives : 6

Ice berg lettuce : 3 leaf
Dressing:
Take a bowl. Put Olive oil on it and then add salt, crushed Black Pepper, Lemon Juice and freshly chopped dill. Mix well.
Method:
Peel Sweet Lime and Cut into Dices and keep inside the Refrigerator. Toss dices of sweet lime in the dressing.
Make a Bed of Ice Berg and lollo rosso in a plate. Put salad on it garnish with fresh dill and quarters of black olives.