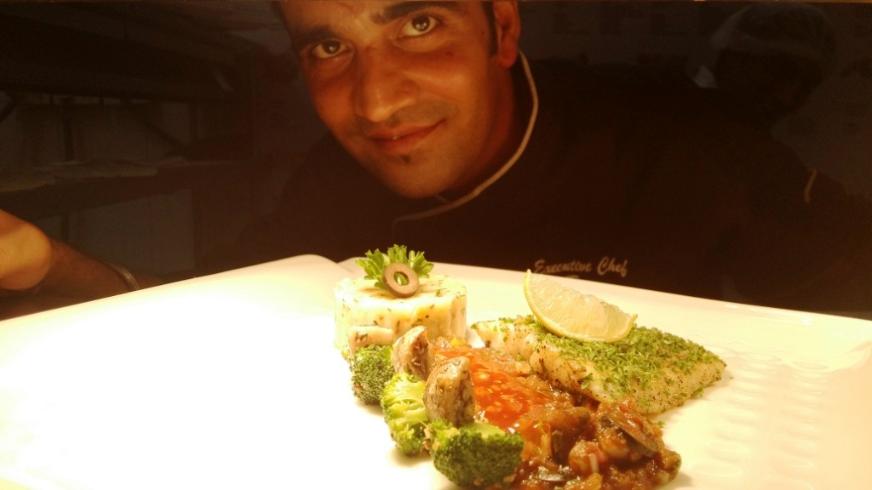 Swaagatam to Chef Som Sharma's world of "Good Food IS Good Mood"
Chef Som was raised in Himachal Pradesh, in India, where he grew up surrounded by his family feasts, the seasonal produce fresh from the Village fields, and of course, his grandmother and mother's traditional home-style cooking. It was at his mother's side that he began to learn the intricacies of Cooking. This interest generated in me when my Mom & Grandmother who regularly cooked delicious Food for our Family. I always miss those moments when my mom Picked fresh vegetables from fields and cooked in traditional style at home.
Chef Som also inspired from Dham(A Typical Unique Style Cooking)!!!!!!!!!!
Dham is cooked only by botis (a particular caste of Brahmins who are hereditary chefs). The utensils used for cooking the food are normally brass ones on Opened Wood fire. It is served in courses to people who sit on floor. The food is served on fresh green leaf plates. The traditional Dham is celebrated with great enthusiasm..
For Me What Is Food………….
For me, food is not just my Craft, it is my Passion everything and anything is an inspiration. My world orbits around my passion for the perfect Jayka, the perfect Khushbu, the perfect presentation, and I love to invite others to share it."
Innovative Young, Passionate & Crazy Chef with his fun style of cooking... He always incorporates the flavor of fun in kitchen... and whether it is the juggling of pans or singing, these are definitely part and parcel of creating that yummy dish that you would later relish...
What is most remarkable about chef Som is the amount of passion that goes into his every dish...Chef Som has continued to spread the joy of cooking. He has charmed his fans by his innovative, original and most of all passionate cooking……..
Chef Som has been developing a culinary vision that has come for her fans with untouched recipes of Indian cookingthat's almost cooked only home or any special occasions…
Chef Som consistent and polished execution of his Own Style Recipes with her own twist and sprinkled with the aromatic Indian flavors.
Not Without them….Guru Bina Gyan Nahi…….
We all born naïve then we open ourselves to the world around us and become who we are. After our parents our gurus who shapes us. Being born in a culture where a teacher placed before god and having the good fortune of having worked with some great's chefs and human beings it's only fair that respectfully acknowledge them for shaping me up. I always thankful to my Great chefs, gurus who polished my knowledge time to time and today I am standing here with their blessings, & teaching.
Apart From Cooking………….
Apart from this Chef Som Sharma also loves to Explore New Places. He loves Styling food and photography, Spending Time with Family and Friends and sports as well. The chemistry of cooking, advance cooking techniques & technology, ethnic cuisines and the research of forgotten ingredients & recipes are top most on his reading list.
Stay tuned, You Can get Chef Som's favorite, Unique, Innovative Style Dishes ,recipes on this website & His Facebook Page.