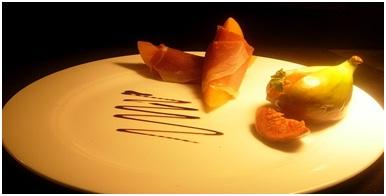 Ingredients:
Melon slice : 2

Parma ham slice : 2

Fresh fig big one : 1

Chop onion: 1 gm

Lemon juice : 3 drops

Salt as per taste

Crushed black pepper : 1 gm

Mint sprig : 1

Olive oil : 1 tea spoon
Method:
Take melon slice and cover with Parma ham slice on it.
Take a fig and cut a wedge from one side.
Remove flash from fig and keep in a bowl.
Heat oil in a pan on slow flame & add onion, fig flash on it.
Add salt and lemon juice on it.
Sauté this mixture well. Remove from heat.
Stuff this mixture again in fig. Garnish with fresh mint leaf.